"Our industry does not respect tradition, it only respects innovation", said Microsoft CEO Satya Nadella when he was appointed. His tenure has mostly been about exploring Microsoft's future beyond Windows. At the Build 2016 conference last week, he unveiled the company's plans to bring the world of bots to "conversational platforms" – including Skype, Slack, Outlook, LINE, and more.
To demonstrate this system, Microsoft assembled a chatbot for Domino's, showing how a conversational interface could replace the standard online ordering forms (e.g. selecting from a drop down menu to choose your pizza toppings).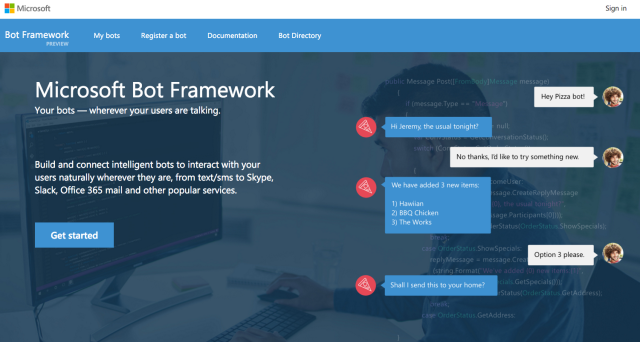 According to Nadella, bots are the next big thing – and they make interacting with online businesses and services easier for users who don't want to deal with the numerous mobile apps available today, or who are frustrated by navigating the endless sea of websites. Bots work better because you simply talk to them, using natural language.
Sure we've heard about such chatbots before, but Microsoft wants to give the tools to build these bots to everyone. Yaay!
There are two key components available in preview, and are both part of the larger Cortana Intelligence Suite. "The first, Microsoft Cognitive Services, is a collection of intelligence APIs that allows systems to see, hear, speak, understand and interpret our needs using natural methods of communication", Nadella said. "The second, the Microsoft Bot Framework, can be used by developers —programming in any language — to build intelligent bots that enable customers to chat using natural language on a wide variety of platforms including text/SMS, Office 365, Skype, Slack, the Web and more."
Though Microsoft's "Tay" bot was quite a nightmare, the company demonstrated how artificial intelligence applications built with Microsoft technology can be useful in the real world. Most impressive right now is Seeing AI, an application to help blind people navigate the world, built by a blind Microsoft software engineer named Saqib Shaikh.
As seen in the video above, Shaikh uses Seeing AI with both a smartphone and the Pivothead smart glasses to get information about his surroundings. While outside, Shaikh taps the side of his glasses to take a picture of a man doing a skateboard trick, and a voice tells him, "I think it's a man jumping through the air doing a trick on a skateboard."
"The app can describe the general age and gender of the people around me and what their emotions are, which is incredible," Shaikh said.
In another scene, Shaikh uses the smartphone app in a restaurant to find out what's on the menu. "Years ago, this was science fiction. I never thought it would be something you could actually do, but artificial intelligence is improving at an ever faster rate," he said.
Microsoft will help power these programs by providing what it calls "cognitive micro services" — little scoops of prepackaged intelligence that give bots the ability to understand natural language, for example, or analyze and label images.
"We want every developer to be able to build bots as the new application for every business and every service," said Microsoft CEO Satya Nadella. "We want all developers to be able to infuse intelligence into their applications."
We're very excited by the idea of being able to build our own little bot! How bout you?
141